Lunch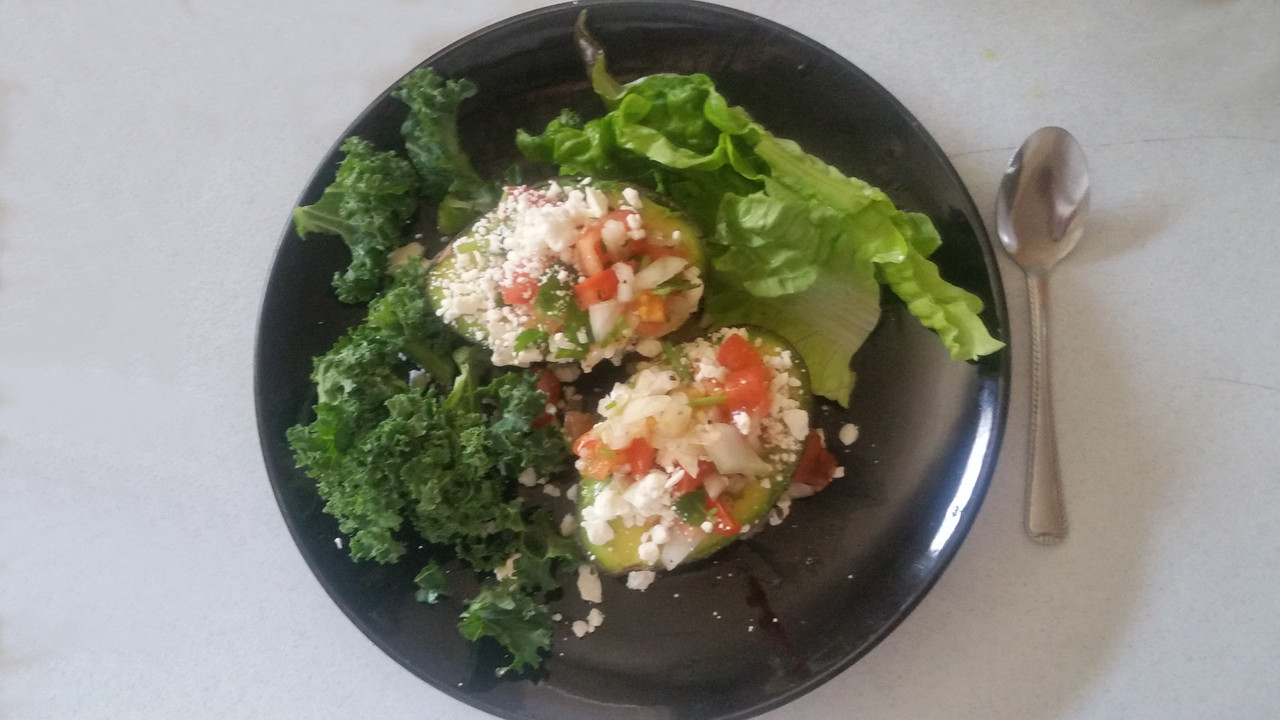 Joe's Avocado salad

How to make Joe's Avocado salad.

Typically I'm so full and satisfied from my breakfast that I'm totally not interested in lunch. That said, there are some rare occasions that I do get a little hungry in the afternoon. Rather than run for carbs I'll eat something like this. It's stuffed full of healthy fats for fuel and the cheese is great for your digestion..

Ingredients:

1 medium ripe avocado
1/4 cup feta cheese crumbles
1 medium roma tomato
1/4 cup chopped onion
clilantro to taste
1 tablespoon minced garlic
1/2 teaspoon sea salt
1/2 teaspoon black pepper
1-2 cups of chopped kale
1 cup of red leaf lettuce

Steps:

Cut the avocado in half and remove the pit.
Chop the tomato, onion, cilantro, and kale
Plate the kale and lettuce.
Mix the tomato, onion, cilantro, spices, garlic in a bowl.
Spoon the salsa into the pits (the holes left in the avocado).
Sprinkle the feta over the salsa
Enjoy!
How to make Chef Buck's Cauliflower Keto Pizza

Chef Buck's Cauliflower Keto Pizza

Chef Buck's Cauliflower Keto Pizza

I found this one on YouTube. Here's the link to the video for reference.

Ingredients:

2 cups of grated Cauliflower
1 cup of freshly grated Parmesan Cheese
1 Egg beaten
Parchment Paper to line your baking sheet
Pizza Sauce with no added sugar
Toppings

Steps:

Grate fresh cauliflower florets into granules resembling "poprocks "
Heat the grated cauliflower in a skillet--don't add oil or water--use medium heat, not too hot. Stir until the cauliflower has dried out somewhat, it won't dry completely, but the dryer the better. Heat at least 10 minutes, just enough to evaporate the moisture, not enough to color or cook down.
Remove skillet from burner and set aside to allow cauliflower to slightly cool.
In a bowl, beat 1 egg.
Add grated Parmesan cheese to the egg. You can substitute, asiago or romano cheeses, just be sure you use a hard cheese for best results.
Add the cauliflower to the bowl and mix well with the egg and cheese and form into a ball.
Spread parchment paper onto a baking sheet. DEFINITELY USE PARCHMENT PAPER, otherwise your crust may tear when you try to pick it up (and also be sure not to mix up parchment paper with wax paper!)
Place the balled cauliflower and cheese onto the parchment paper and spread out into a pizza shape about ¼ inch thick. The crust will be about 10" across.
Do not make the edges of the crust too thin; keep the size of the crust uniform for even cooking.
The cauliflower will darken quite rapidly around the edges if too thin.
Place crust into an oven preheated to 400 degrees Fahrenheit and cook approx. 15-20 minutes until the crust has colored and firmed up.
Remove cauliflower pizza crust from the oven and top with your favorite pizza sauce. Use a no added sugar marinara sauce, pesto, white sauce, or whatever.
Top with your favorite pizza toppings.
Return pizza to the oven and continue to cook at 400 F for about 10 minutes until the toppings are done, watch the edges of the cauliflower crust; the edges will darken too much if overcooked.
Remove the pizza from the oven and set on a cooling rack --or don't-- this step isn't make or break.
And that's it.
Eat and enjoy.
Dinner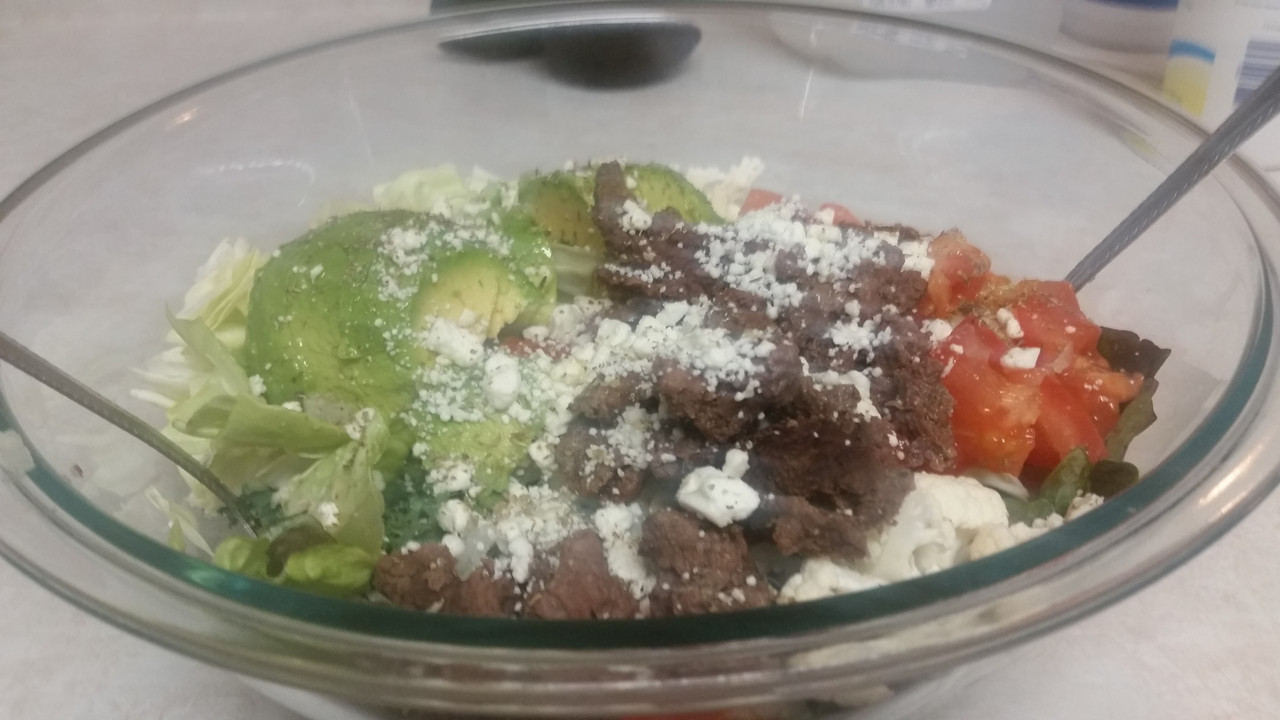 How to make Joe's Steak salad

Steak salad with avocado and feta

More often than not, I'm craving fresh salads these days. Since I cook the breakfast I think getting the fresh veggies is important for maximum nutritional value! Also, feel free to substitute your favorite cut of chopped steak.

Ingredients:

1-2 cups of spinach
1-2 cups of kale
1 cups of cabbage
2 cups of red lettuce
1 cup of cauliflower
1/2 cup mushrooms
1 stalk celery
1/2 cup onion
1 tomato
1/2 cup cucumber
1 halved avocado
1/4 cup feta cheese crumbles
1/2 tsp sea salt
1/2 tsp black pepper
2 tablespoons Italian seasoning
2 tablespoons lemon juice
6 tablespoons olive oil
4 tablespoons minced garlic
1 cup cooked stewing beef

Steps:

In a frying pan add the stewing beef in 2 tablespoons of olive oil.
Cover the beef with half the dry seasonings.
Add 2 tablespoons of garlic to the pan.
Cook on medium-low heat (to be safe keep under 350°) until well done on all sides. Note that olive-oil turns "evil " if overheated.
Allow to cool while preparing the salad.
Rinse, chop, and add to a large bowl the 1st 10 ingredients.
Add the halved avocado and feta to the bowl.
Add the remaining half of the seasonings
Pour the remaining 4 tablespoons of olive oil over the salad.
Pour the lemon juice over the salad.
Add the cooked stewing beef to the salad.
Mix & Dig in!
How to make Zack's Krazy Keto Chicken

Zack's Krazy Keto Chicken

Krazy Keto Chicken

This recipe is a modification of one found on YouTube. Zack used fresh organic herbs for all of this. Here's the link to the video for reference. Oh, and be sure to read below the video (SHOW MORE) for some GREAT advise about NOT washing the chicken before cooking. Really!

Ingredients:

2 tablespoons Minced Garlic
1.5 ounces Parmesan Cheese
2-3 lbs (4-6) Boneless Chicken Breasts
1 tablespoons Black Pepper
1 tablespoons Basil
1 tablespoons Cayenne Pepper
2 tablespoons Oregano
2 tablespoons Thyme
2 tablespoon Turmeric
½ cup Feta Cheese Crumbles
½ cup Mushrooms
1 1/2 cup Heavy Cream
1/2 cup Butter

Steps:

Place 4-6 chicken breasts into a large baking dish.
Pour heavy cream into the dish around the chicken.
Layer all the seasonings evenly on top including the garlic.
Add a layer of mushrooms.
Add a layer of Feta Crumbles.
Add a layer of Parmesan.
Add the butter around the chicken.
Cover with foil and seal well to hold in the moisture.
Place in a preheated oven at 275° for 3 hours. The reason for the low and slow cooking temp is to preserve the good fats!
Remove after 3 hours and lift a corner of the foil with a fork to avoid a blast of steam.
When safe, remove the foil completely.
Now using two forks, shred and spread the tender chicken in the dish and allow to soak up all the liquid.
Serve and prepare everyone to be blown away!